Agent K Daring is a major character in The Replacements. She is the siblings' adoptive mother and a British super spy.
Official character description
"Slightly paranoid, she insists on trying to adapt her super-spy skills to parenting, with little success. She is always cool and collected under pressure, unless there is an audience watching. K is fiercely loyal to her family."[1]
Biography
Agent K had a rough childhood. At one point, she was enslaved by a traveling carnival after she ran away from home.[2] Agent K's mother, Agent B, was frequently out on spy missions, so they rarely spent time together.[3] Despite this, she still followed in her mother's footsteps. Agent K trained in Britain's elite Royal Spy Academy, where she got good grades in everything except cooking.[3] She is also a classically-trained violinist.[4]
Her exploits have taken her around the world. She once took martial arts lessons from Master Pho in order to bust his bank-robbing karate gang;[5] she also successfully posed as baseball player Fernando Gomez for two seasons,[6] a disguise that she often revisits.
Years later, Agent K married famous American stuntman Dick Daring. When Fleemco created its replacement program, Agent K adopted orphans named Riley and Todd.
Personality
From an outside view, it may seem she doesn't care for her kids or husband, but in fact she loves them devotedly, even though she may express it through a recording or videotape. If something is done unfairly, she fixes it very quickly. She is just as logical as C.A.R., but she seems to favor Dick over him; in some episodes, she is almost as immature as her husband.
Her career as a spy has also made her highly suspicious of anything that is the least bit out-of-place, to the point of paranoia. She believes that strangers who show up at her front door might be enemy spies. Her concerns aren't completely unfounded, since enemy spies have shown up at her house, though she is just as likely to attack innocent victims. She also has a habit for thinking all her chores are secret missions, and she uses spy gadgets to clean the house. She seems to have an inflated opinion of herself, as revealed by the ending of "Glee by the Sea", where she is genuinely surprised that she was wrong about something. In the episode "Abra K Dabra!", it is revealed that she has stage fright and that her middle name is Mildred.
Appearance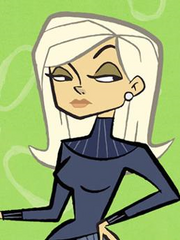 Agent K has light blonde to whiteish hair, black eyes, and fairly tanned skin. Her lips are a peachish color. Her eyelids are a shade or two darker than her skin. Her eyebrows are a very dark brown to a black and are thin. She wears white earrings that look like small white dots or pearls. Her outfit is a black turtleneck, black figure hugging pants with a black belt, and black high heeled boots. Agent K's appearance is based on Diana Rigg, who played Emma Peel in the 1960's spy series The Avengers.[7]
Trivia
Her first name was never revealed on the show. Some sources erroneously give her first name as "Karen".
References