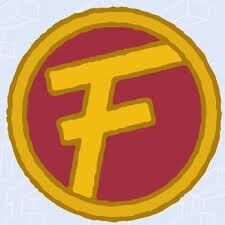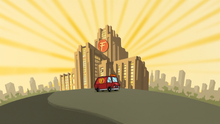 Fleemco is a company founded in 1989 by Colonel Cadmus K. Fleem, which is currently run today by Conrad Fleem. Fleemco's headquarters are in Canton, Ohio.
Description
Fleemco is known for its many consumer products, such as FleemSol, the Fleemer Steamer, OxyFleem detergent, Fleem Brite Toothpaste, Fleem Dream Mattresses, the FleemPod, FleemDos Computers, Fleem Star Line, which operates the steamship Fleemtanic, and Fleemsoft fabric softener. It is also known for its many online ventures, including Fleemster and FleemBay.
But by far the most distinguishing characteristic of Fleemco is its top-secret replacement program, known as the Fleemco Replacement Initiative.[1] Conrad Fleem created the replacement program to help Riley and Todd Daring, his newly-orphaned niece and nephew. He sent Agent K and Dick Daring as replacement parents, and he allowed the siblings to replace people as a means to teach life lessons. In the series finale, "Irreplaceable", Conrad opens up the replacement company to all children, and he enlists Riley and Todd to help run the company.[2] Users with access to this service have the ability to replace any living thing at any time, depending on the the user's preference. Neither the replacements nor the people being replaced are aware of the program.[1]
To promote The Replacements, Disney launched a website at fleemco.com, which included a virtual shopping site, a fictional history of the company, and a secret unlockable Dick Daring wallpaper.[3][4] The URL now redirects to the Disney Now streaming service.
Trivia
References